Scheduling Challenges for Drip Irrigation
Drip Scheduling 101
How much readily available water can your crop access
with your drip irrigation regime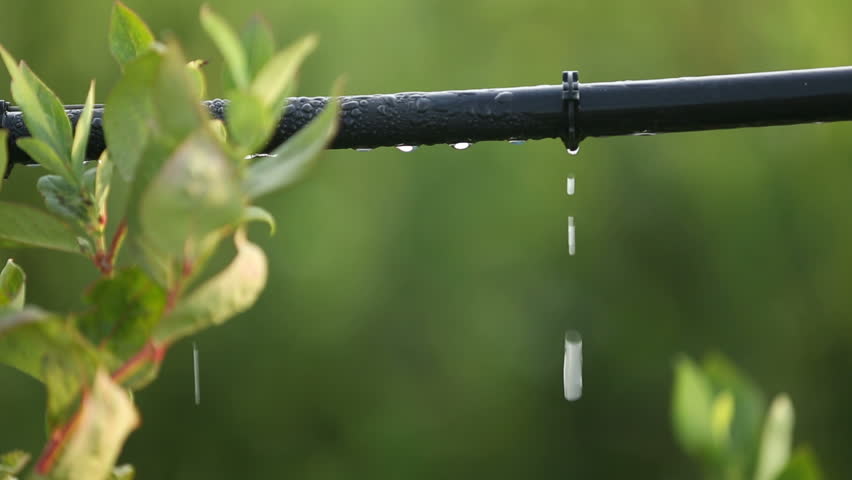 Where are your roots found in the soil?  What is your reduced RAW under drip?
 If there is water management issues you'd like further support to understand or address, contact Simon Knowles or Earthwise Services today.
Is your crop getting optimal access to the irrigation you're applying?
Issues raised here have greatest impact on more sensitive, shallow rooted crops such as citrus and avocado.
If you have a good understanding of RAW and partial wetting drip restrictions, you might like to skip to Drip Scheduling Challenges below.
Explaining Lateral Spread
Lateral spread is what I'm really talking about:  How far is water from the drippers spreading sideways into the midrow?  This is an important factor that determines the available storage volume of soil that is accessible by the crop.  Lateral spread is mainly influenced by soil texture but application rate and frequency, salinity and temperature will also impact.
Lateral spread is most easily measured by digging a trench perpendicular to a dripper after a long irrigation has finished and observing how far the soil has wetted out.  Measuring soil salinity and or pH at regular intervals in a perpendicular trench about 100mm below the surface is another way to measure lateral spread.
Lateral spread is typically expressed as a percentage of total irrigated area.
For example:
The row spacing of a citrus crop is 3.66m.  The crop is irrigated by 2 drip hoses that lie about 1m from the base of the tree.  The lateral spread on one side of a dripper hose is measured at 0.3m and this is assumed to be uniform for each side of all hoses.
Where are your roots found in the soil?
Rooting depth of a crop is influenced by genetics (root stocks), soil properties and water delivery.  Under drip irrigation, the fine feeder roots responsible for water and nutrition uptake are typically found in the highest density close to dripper outlets.  It makes sense that water that moves beyond the depth where roots are located isn't available to the crop and is lost to deep percolation or drainage.  Crop root zone depth is another factor that limits water storage for the crop.
The bulk massive of fine roots is where most water is absorbed into the plant.  In more sensitive horticultural crops, these roots are typically quite shallow and highly concentrated compared to structural roots found deeper in the profile.  A gouge core can be used to gain a quick appraisal of crop root zone depth however a trench or soil pit will provide more accurate measurement.
What is your reduced RAW under drip?
By definition, RAW or Readily Available Water, is the water stored within a plant rootzone that can be extracted by the plant without stress.  The highest amount of water held within soil particles without any draining out is known as Field Capacity.  Field capacity is known to occur at a suction of -8kPa.  Water added after field capacity is reached will drain through the profile.
Crop stress occurs when tension of the water held within the soil exceeds between -40 & -60kPa for most horticultural crops.  The goal of scheduling is to keep soil water levels between field capacity and a refill point not exceeding a suction -60kPa depending on management objectives.
To calculate the RAW of your soil, you need to know the soil texture within the root zone of your crop.  Accurate drainage curves for different soil textures in the Riverland are provided in the following table:
Soil Texture
Soil water deficit (mm/cm)
-8 to -20 (kPa)
-8 to -40 (kPa)
-8 to -60 (kPa)
-8 to -1500 (kPa)
Sand (S)
0.33
0.36
0.38
0.62
Loamy Sand (LS)
0.45
0.52
0.55
0.87
Clayey Sand (CS)
–
0.55
0.6
1.00
Sandy Loam (SL)
0.46
0.59
0.65
1.15
Light Sandy Clay Loam (LSCL)
0.45
0.65
0.74
1.37
Loam (L)
–
0.69
0.84
2.43
Sandy Clay Loam (SCL)
0.39
0.61
0.71
1.44
Clay Loam (CL)
0.3
0.53
0.65
1.48
Clays
0.27
0.46
0.57
1.49
Heavy Clay (HC)
–
0.25
0.41
1.20
An example of calculating RAW:
A soil under a citrus crop was found to be a Sandy Loam to a depth of 80cm.  Crop roots were found to a depth of 35cm with the bulk mass of fine feeder roots only observed to 25cm (30cm will be used for root zone depth).  -60kPa is considered a reasonable refill point.
RAW = 30cm x 0.65mm/cm = 19.5mm water storage in the full rootzone.
Under drip irrigation, the crop doesn't have access to the full RAW of all the soil so we need to reduce the RAW by multiplying it by the lateral spread percentage of 33% as described above.
19.5 x 33% = 6.43mm RAW under drip irrigation
Drip Scheduling Challenges
Many growers are aiming to keep the irrigated zone of soil just below field capacity for most of the growing season to optimise crop yield potential by eliminating any crop stress.  Drip irrigation is applied daily during the irrigation season with the objective of scheduling to replace the water used by the crop from the day before.
There's a myth I've heard suggesting that daily delivery of crop water demand places less emphasis on soil RAW as the soil is simply a transportation hub between the drip tube and plant roots.  On the contrary, a smaller volume of soil is being used to deliver plant water and major nutritional requirements so closer attention to managing this soil is essential.  Here are some critical areas of management affecting reduced RAW.
Timing of irrigation's
Plants demand water when they are photosynthesizing during daylight hours.  Timing of irrigation delivery can be influenced by system size and management decisions such as using cheaper off-peak power at night.  If the daily water (or even a proportion of it) cannot be delivered with crop demand, then it needs to be stored in the soil.  Regular drainage or loss will occur if water is added to a full profile when the crop isn't demanding it.
When the crop needs water and irrigation isn't occurring, it can only draw from the available storage within its root zone without incurring stress and potential productivity loss.  In the example above from real measurements, 6.43mm was the drip RAW.  In hot conditions, records showed that crop water demand often exceeded soil water storage.  So, if irrigation didn't occur during the day time to match crop demand, water stress is likely and further, drainage is also likely to occur with night time irrigation's as the daily volume to be replaced will exceed soil storage capacity.
Timing related irrigation issues might be addressed by pulse irrigating – breaking up daily irrigation application into smaller amounts.  This gives the crop greater chance of accessing water at different times, provides greater flexibility in water delivery and optimises lateral water movement in the soil.
Soil water monitoring devices
Looking at continual logging Soil Water Monitoring (SWM) data under drip irrigation can be more technical and challenging compared to full cover irrigation systems.  There are often many slight changes occurring in the data that it can be difficult to base management decisions on.  For this reason, I prefer using a soil water balance to schedule drip irrigation's based on local weather data of either evaporation pan or evapotranspiration calculated data from a weather station.  Continual logging SWM data is still so important to assess effectiveness of scheduling decisions, observe and adjust for seasonal crop development changes and minimise deep drainage.
Multi-depth capacitance probes are commonly used and are particularly useful to look at water use changes in separate layers.  A large level of daily variation is expected with sensors measuring the crop root zone.  Conversely, the water level beneath the crop root zone is expected to be stable with small or no variation due to irrigation.  A lot information can be gained by simply taking the time to review and understand soil water monitoring data in conjunction with field observations.  Summed graphs combining several depths to capture root activity are only useful if they truly represent the specific crop root zone.  Even if you can see evidence of crop water use in the data, field observation is recommended to verify interpretations from the data.  Here are some management suggestions to enhance SWM management:
Install a soil water monitoring device if you haven't already. Potential losses from not having them is likely to be far higher than their cost!
Know the soils under your crops. What variation is there and what soil is the soil water monitoring data measuring?  Is this the best place for this device?
Always check conclusions you make from looking at SWM data with field observations. It's just one source of data and it's only measuring a very small volume of soil
Seek assistance from a dealer or consultant if you're not confident to make sure you are getting the most out of your SWM system.
Physical variations with a valve or irrigation management unit
Crop water use can be impacted by non-uniform heat or wind exposure in the patch as influenced by aspect or topography.  Water storage of the soil will also be impacted by any soil texture or structural (e.g. compaction) variation.  These issues can be managed in a number of ways and are primarily identified through field observations and below average crop performance.  Here are some examples of field observations and some management options:
Observed
Management options
Shallow crop root zone in an area

Irrigate patch only in the daytime and pulse irrigate to minimise stress on this area;
Investigate cause of shallow root zone with soil survey and seek advice on amelioration options.

Sandier soil in an area

Pulse irrigation, day time irrigation only;
Ameliorate to increase water holding capacity by adding organic matter or injection of polymers through the system.

Heavier (Clay) soil in a low lying wetter area

Check system application rate in this area;Survey the soil to understand what's happening;
Monitor and see if improvements to drip scheduling and management in other areas dry out the area.  (This is likely a symptom of a wider issue that can't be addressed just in this area.);
Reduce or even stop irrigation application in this area;
Plant a higher water use crop in this area to absorb more water;
Drainage systems can be installed as an expensive last resort.

Higher exposure to wind or heat

Installation of wind break or shading;
Divide this area off to manage it as a separately valve unit.
Emission uniformity of the drip system
Drip is the most precise form of irrigation with the lowest application rate of all system types.  Unintended variation in valve application rate can accumulate to significant differences over a whole season.  Regular systems measurement, inspection and maintenance is essential to keep a drip system within design specifications.  Here are some areas where attention is needed:
Keep the drip system clean with regular flushing of laterals delivery mains and filters;
Check pressure settings at the head works and valves;
Measure flow and pressure variation against design specifications within each valve unit and address any issues that are found;
Monitor water use through the meter and compare delivered volume against the predicted volume based on the design;
ALWAYS consult an accredited irrigation designer if you need to make changes to your system.
Effectiveness of rainfall
All growers like a free water from the sky if it suits seasonal timing but rainfall on drip systems is not effective in meeting crop water demands.  Only a small proportion of rainfall events may be available for crop water use.  This occurs because plant roots are orientated around receiving water and nutrients from the drip system in a confined space and only rain that gets into this space can be used by the crop.  Canopy interception also limits rainfall effectiveness.
An inadvertent consequence of lateral spread can be an accumulation of salts in the interrow of a drip irrigated crop.  Over time the midrow salinity level can reach levels that maybe toxic or inhibit crop performance should they re-enter the crop root zone.  For this reason, it is important to have the soil profile close to full prior to significant rainfall events (even in winter time) so that accumulated mid-row salt can be leached deeper into the soil profile rather than be washed back into the crop root zone.
Where to from here?
There is more depth to drip management than can be covered in this article.  The short story is that if you can't measure it, you can't manage it.  So, what are your numbers when it comes to drip management?  Are there issues you'd like further support to understand or address?  Contact Simon Knowles or Earthwise Services for additional support.